Watch the most important moments of the coronation of King Charles III
Watch the highlights of the coronation of King Charles III, where Charles and Camilla were crowned.
April 18, 2023 – News of Russia and Ukraine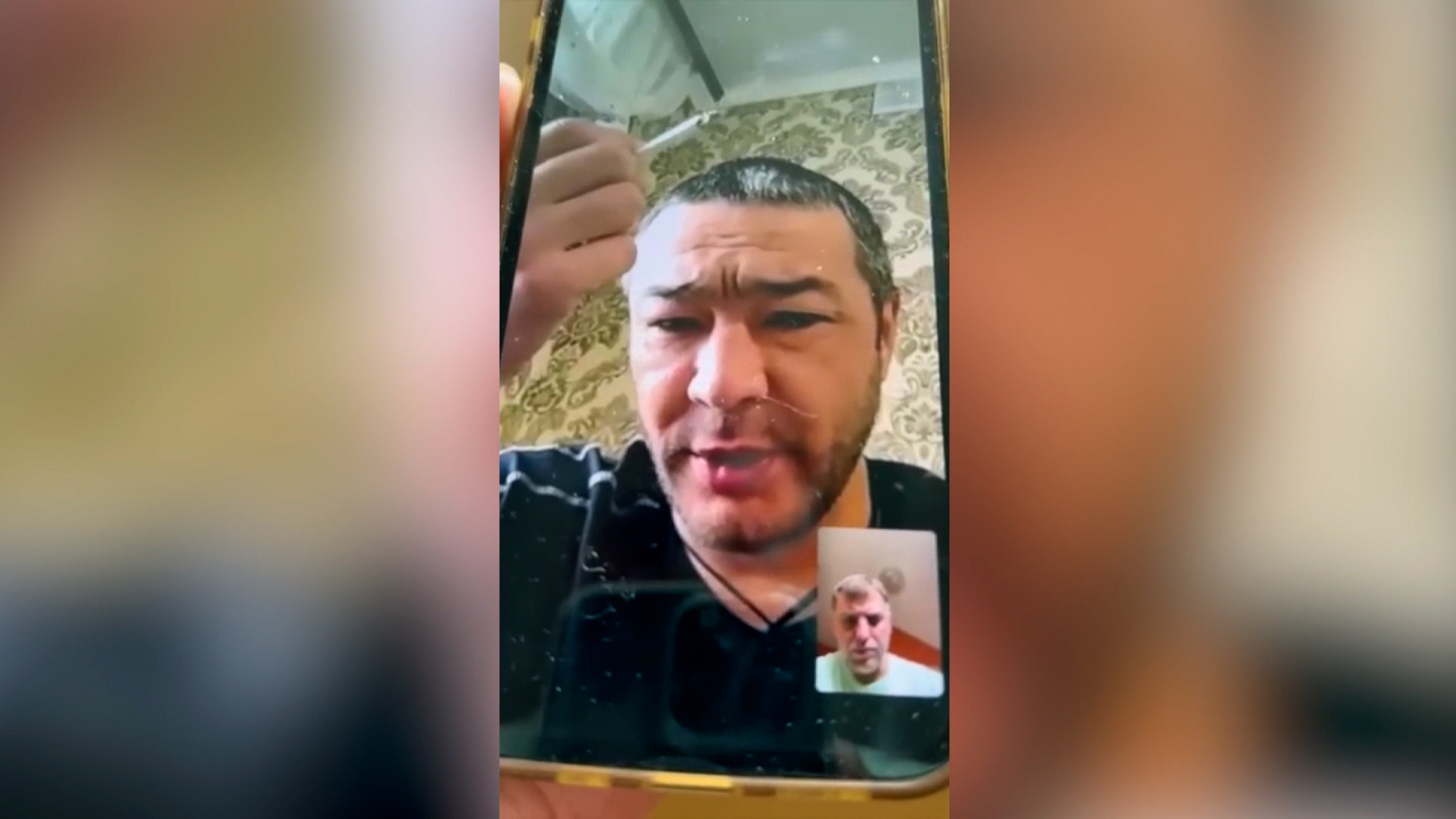 A Russian who claimed to have killed children and other civilians while serving with Wagner's private military company in Ukraine appears to have retracted the claim, suggesting he was being blackmailed.
Former convict Azamat Uldarov gave his rebuttal during a video call to the Russian news agency RIA-FAN. It is not clear if there were any conditions for the interview.
He and another ex-prisoner, Aleksey Savichev, previously gave long and rambling interviews with the Russian human rights group Gulagu.net, saying they were among the tens of thousands of Wagner fighters recruited from Russian prisons to fight in Ukraine.
In a conversation with Gulag founder Vladimir Osechkin, Uldarov said that he had shot a young girl, calling it "the decision of the leadership."
"I was not allowed to let anyone out alive, because I ordered to kill everyone in my path," he said, estimating that the girl was five or six years old.
In an interview with RIA-FAN, linked to Wagner group leader Yevgeny Prigozhin, Uldarov said he gave the interview while intoxicated and claimed that Osechkin blackmailed him about being in prison.
To the question of RIA-FAN: "You were forced to say what you said on the video, right?" Uldarov answered: "Not only correctly, but also [expletive] correct. I had to say it because I didn't have a choice."
"I said everything I was told," Uldarov said then.
"Prigozhin is a great guy," he added with a thumbs up. "He saved our lives."
But Osechkin, from the Gulag, who is based in France, told CNN he stands by the content of his interviews with the two men, citing Uldarov's rebuttal as evidence of how quickly dissenting voices are silenced in Russia.
Osechkin also claimed that both interlocutors, Uldarov and Savichev, received death threats if they did not retract their testimony to him. Savichev told the Gulag that his unit was ordered to kill all men 15 and older.
read more Here
Palestinian militants launch more rockets, Israeli airstrikes hit Gaza despite ceasefire efforts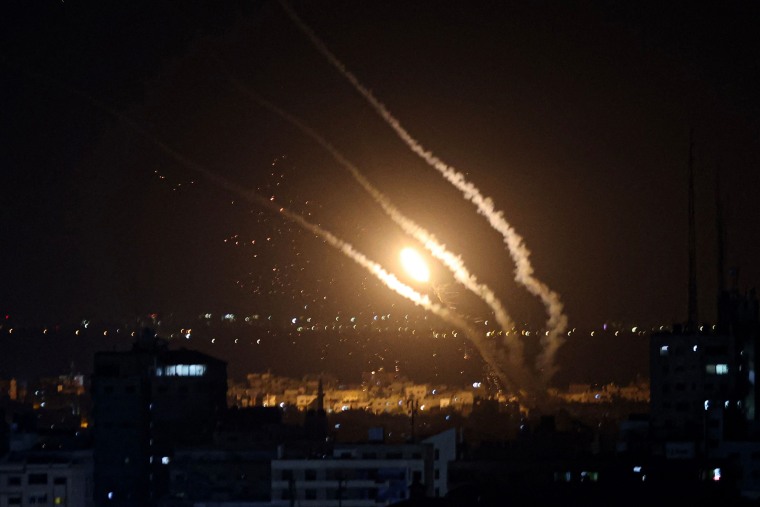 The most violent confrontation in recent months between Israel and Palestinian militants continued for the third consecutive day on Friday, as Israeli warplanes hit targets in the Gaza Strip and militants fired rockets towards Jerusalem and southern Israel.
On Friday, there were no immediate reports of casualties on either side as foreign mediators made efforts to reach a ceasefire. In the past few days of fighting, 31 Palestinians have died in Gaza and a 70-year-old man in central Israel.
A burst of rocket fire from the Gaza Strip set off sirens near the contested capital, Jerusalem, breaking a 12-hour lull that raised hopes that Egypt, Qatar and the United Nations could soon broker a ceasefire. Residents of Israeli settlements surrounding Jerusalem reported hearing explosions and seeing black smoke billowing from the hills following an apparent missile interception.
The rocket crashed into an open field in Bat Ain, a settlement south of Jerusalem, said Josh Hasten, a spokesman for the area. The video shows Israelis jumping out of their cars and hiding under highway rails as sirens sound.
An umbrella group of Gaza-based Palestinian factions known as the "Joint Operations Room" said they fired the rockets "in response to the killings and ongoing aggression against the Palestinian people."
Prime Minister Benjamin Netanyahu's office said they were conducting a security assessment. The Israeli military said its warplanes were hitting Islamic Jihad targets in retaliation for the missiles.
Cross-border exchanges this week pushed Israel against Islamic Jihad, the second largest militant group in Gaza after the rulers of Hamas. Israel says its strikes have killed five senior Islamic Jihad figures since Tuesday. Islamic Jihad responded by firing more than 800 rockets into densely populated areas of Israel. During this time, the Israeli military said it carried out airstrikes on at least 215 targets in Gaza, including rocket and mortar launchers and militants preparing to use them.
Israeli bombs and shells destroyed 47 housing units and damaged 19 so badly that they became uninhabitable, leaving 165 Palestinians homeless, the Gaza Housing Ministry said. In addition, about 300 houses were damaged.
On Friday, Palestinians inspected the wreckage resulting from the fighting.
"The dream that we built for our children, for our sons, has collapsed," said Belal Bashir, a Palestinian living in Deir el-Balah in central Gaza, whose family home was reduced to rubble by an airstrike late on Thursday . According to him, he and his family would have died as a result of the thundering explosion if they had not run out into the street when they heard the screams.
"We were shocked that our house was being targeted," he added, pulling his little baby dolls and blankets out of a bomb crater.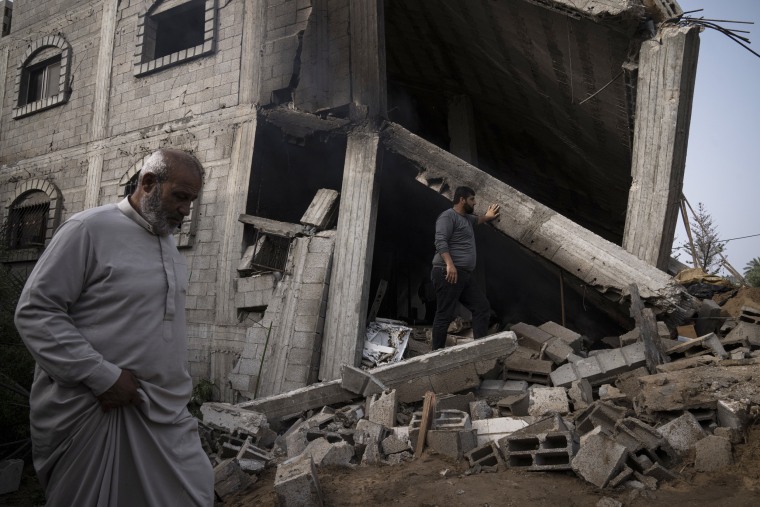 The fighting has killed at least 31 Palestinians in the Gaza Strip, including seven children and four women, according to the United Nations Humanitarian Office. According to the Israeli military and the Palestinian Center for Human Rights, at least three children died as a result of the misfire of Palestinian rockets. More than 90 Palestinians were injured, according to the Palestinian Health Ministry.
The death of civilians caused condemnation from the Arab world and concern in the United States and Europe. Over the past four wars against Hamas, Israel has repeatedly faced charges of war crimes due to the high civilian death toll and the use of heavy weapons against the crowded enclave. Israel, in turn, claims that Palestinian militants use civilians as human shields, fighting among them.
Hamas, the de facto civilian government with an army of about 30,000 in Gaza, has sought to maintain a truce with Israel in an attempt to prevent the dire living conditions in the blockaded enclave from worsening following a devastating 2021 11-day war that killed more than 260 people. Palestinians.
The group that took over Gaza in 2007 weathered this round of fighting, as it did last summer during a similar outbreak of violence. As a sign of restraint, Israel limited its airstrikes to Islamic Jihad targets.
Both sides appeared to be on the brink of a ceasefire until Thursday's violence erupted. Friday's relative calm bolstered hopes for progress.
Hamas officials told local media that Egypt is stepping up its diplomatic efforts to stop the fighting through "intense contacts" with both Hamas and Islamic Jihad.
Islamic Jihad officials are giving mixed signals about ceasefire talks. A senior official, Ihsan Attaya, complained early Friday morning that the mediators "couldn't provide us with any guarantees." According to Attai, the stumbling block was Islamic Jihad's demands for Israel to stop its policy of targeted killings.
Mohamad al-Hindi, a member of the Islamic Jihad Politburo, was more optimistic. From Cairo, where he traveled on Thursday to discuss details of a possible truce, he told media he hoped both sides "reach a ceasefire agreement and stick to it today."
Fighting began this week when Israel launched simultaneous airstrikes on Tuesday that killed three Islamic Jihad commanders, along with some of their wives and children, as they slept in their homes. Israel said it was retaliating for a rocket attack launched last week by Islamic Jihad following the death of one of its West Bank members, Hader Adnan, on a hunger strike while in Israeli custody.
Airstrikes and rockets have shifted the focus of the conflict back to Gaza after months of violence in the occupied West Bank under the most right-wing Israeli government in history.
Israel has been carrying out almost overnight arrests in the West Bank that have killed 109 Palestinians this year, the highest death toll in two decades. According to the Associated Press, at least half of the dead are militant-related. During this time, at least 20 people died as a result of Palestinian attacks on Israelis.
How the uneasy relationship between the Sudanese army and separate forces erupted into violence
CAIRO (AP) — In recent years, the Sudanese armed forces and separate armed forces have amassed power, suspecting each other, even as they worked together against the country's pro-democracy movement. Officers from both forces say it was a long-awaited recipe for disaster.
Their fragile union ended in mid-April, when they pointed their guns at each otherfueling a conflict that threatens to engulf Africa's third largest country.
In an interview with The Associated Press, more than a dozen senior officers of the Sudanese army and rival paramilitaries known as the Rapid Support Forces have revealed what led them into all-out war. They, along with political activists and a UN official, described how both sides seized power, switched alliances and took steps to protect their interests under international pressure to move to a civilian government.
All spoke on condition of anonymity for fear of reprisals or because they were not authorized to speak to the media. Neither RSF nor the military responded to requests for comment.
It was Sudanese leader and former President Omar al-Bashir who created the RSF from the infamous Darfurian Janjaweed militias in 2013. For al-Bashir, the RSF and the regular military were useful in crushing dissent and seeking independence from minorities. countrywide. By keeping the two forces independent of each other, he also ensured that no single figure was powerful enough to overthrow him.
That changed when a popular protest movement against Bashir emerged in 2019. General Abdel Fattah Burhanand RSF leader General Mohammed Hamdan Dagalo decided it was time 30-year presidential rule comes to an end. They made their first of two coups together.
Together they also formed a bulwark against the pro-democracy movement. Weeks after the ouster of al-Bashir, RSF forces led an assault on a protester sit-in in central Khartoum, killing at least 120 people and raped dozens of women.
The head of the paramilitaries, Dagalo, began to expand his influence. He has amassed a considerable fortune overseeing gold mining operations at Jebel Amer in Darfur and other parts of the country in cooperation with Russian group of Wagner mercenaries.
The SRB recruited thousands of new soldiers, purchased new weapons, and set up their own parallel bases in most of the country's provinces. Army commanders were unhappy that this was done "largely without the consent of the military leadership," one member of the military's top leadership council told AP.
It was then that the first signs appeared that the already strained relationship began to crumble.
Military officers in the armed forces have begun putting pressure on their leadership to curb the growing power of the TFR, several military officials said. The higher salaries of many RSF fighters caused resentment.
In September 2021, a military unit based near the capital staged a small mutiny. The military, with the help of the RSF, crushed the attempt. It served as a reminder of the strength of the paramilitaries. Subsequently, Burhan received internal reports showing that most of the officers wanted the disbandment of the paramilitaries.
According to one of the soldiers, some refused to greet Dagalo. "They said, 'He's not a real officer,'" he recalled.
But Burkhan and the military leadership still needed the RSF amid pressure to move towards democracy. As the deadline for the handover of power to civilians approaches, Burhan and Dagalo in October 2015, January 25, 2021, joined forces to lead their second coup toppled the government of Prime Minister Abdullah Hamdok.
Now de facto joint rulers of Sudan, the gulf between them has only widened.
The RSF's attempts to create its own air force have seriously strained relations, officials on both sides say. According to the military, the paramilitaries tried to recruit officers and technicians from the ranks of the Air Force.
At a March 2022 meeting, Burhan bluntly told Dagalo that the military "will not allow any air force to get out of their control", according to an official who attended the meeting. Dagalo responded that he had dropped the idea, but Burhan countered by presenting evidence of recent recruitment attempts, the official said.
Dagalo went to Darfur for two months to escape from his military colleague, RSF spokesman said.
There, he became dismayed by the military's attempts to weaken the RSF's control of their stronghold in Darfur. He discovered that the warlords were planning to create a new frontier force in coordination with militia leader Musa Hilal, a long-time enemy of Dagalo, according to the military and RSF officials.
Dagalo considered it "a stab in the back," said an official close to him.
Meanwhile, international calls for generals to sign a roadmap for the transition to civilian rule grew louder. American pressure on Saudi Arabia and the United Arab Emirates to withhold much-needed financial aid was critical in forcing them to give in, said a former government official who remained close to both camps.
"They were cornered," he said.
Dagalo tried to whitewash his image. He declared the coup a mistake and portrayed himself as a supporter of the demands of civil rule. He allied himself with the Forces for Freedom and Change, the main umbrella group of pro-democracy organizations.
"It was an alliance of convenience," said a political figure who participated in negotiations with the generals. For the FCC, Dagalo was a counterweight to the Islamists in the military.
Burkhan and the other commanders were furious, feeling that Dagalo had betrayed them.
Dagalo "tried to save himself at the expense of the military," said a senior military official close to Burkhan.
In December, the military, RSF and pro-democracy groups reached an initial agreement promising a transition to civilian rule.
One of his key provisions – the inclusion of the SOP in the armed forces – became the last wedge between them.
The military wanted the merger to take place within two years, so that elections were held on time, and demanded that the RBG respond to the head of the military.
The RSF has requested a 10-year integration period during which the entire security service will be overhauled. The RSF also wanted to report to the head of state.
In the months that followed, both sides threw forces into and around Khartoum as the rhetoric escalated. In total, more than 200,000 soldiers were stationed in the Khartoum area, said Mariam al-Mahdi, a former minister in the ousted civilian government.
The deadline for signing a final political agreement has been repeatedly postponed. Close observers warned that open conflict was possible.
On April 13, the RSF moved forces closer to a military airbase in the northern city of Meroe, where Egyptian officials said Egyptian troops were training with the Sudanese military. The military condemned the deployment. International diplomats hurried to reduce the escalation, fearing gunshots.
On the morning of April 15, clashes erupted in the Khartoum Sports City, a decades-old unfinished sports complex that housed bases for both the SRS and the military. Each accused the other of opening fire first in a desperate attempt to seize power.
For hours, millions of Sudanese were pinned down by fire as the two forces battled in the streets of Khartoum and other cities, with military aircraft hitting RSF bases.
"We have all seen the tremendous tension, and we have all seen… that any spark, even if unintentional, can lead to an outbreak of hostilities," Volker Perthes, UN spokesman in Sudan, told AP. "At the end of the day, it was a power struggle between two warlords."